A lovely break to Scotland in half term…….
I have just spent a lovely week on the East coast of Scotland, in the Montrose area. It is a part of Scotland I had never visited before, but the idea of tens of thousand of geese flocking into Montrose Basin at this time of year was something I wanted to see!
Montrose Basin is an enclosed estuary of the river South Esk covering 750 hectares, home to over 80,000 migratory birds – including pink-footed geese, Arctic terns, knots and sedge warblers. The  pink-footed goose influx each evening and it is a wonderful wildlife spectacle and, with  the largest goose count was just over 80,000 individuals.  Last year the peak numbers were close to 90,000! During the day, the pink-feet will usually spend their time feeding in the surrounding fields before returning to roost at the basin overnight. The tide was in when we visited and they rafted in huge numbers.
Fellow photographer, Tim and  I chose a lovely evening to position ourselves on the edge of the basin, with clear views of the skies over Montrose. Just down from the Wigeon hide, we opted to set up on the edge of the basin, rather than in the hide itself.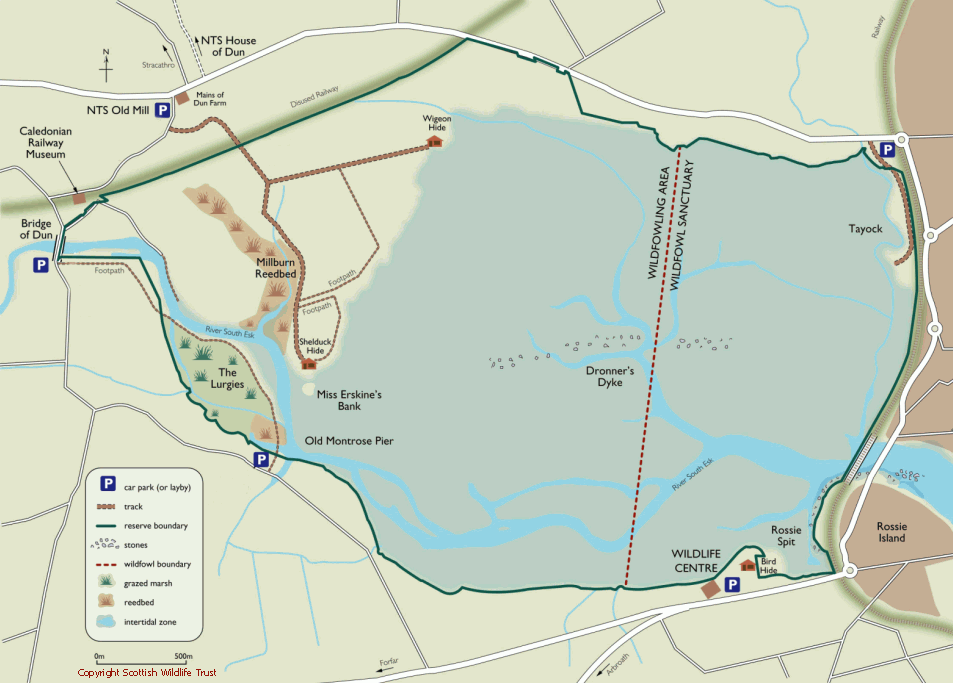 Skeins of geese continually appeared in the skies, snaking their way towards the basin.
As the sun began to sink, the skies turned to gold and conditions were just wonderful! Armed with our cameras, Tim and I shot away, trying to capture this wonderful spectacle…
The light was  challenge, but I was pleased with these images. It is definitely worth a visit and, if you can get a beautiful evening like this, then make sure you have your camera!
Even a heron flew across, giving me another photographic opportunity..
What a superb evening. I will never forget the wonderful sound of those geese calling to each other as they came into roost.
You can find out more about Montrose Basin HERE.
This part of Scotland has lots of  places to explore if you enjoy great landscapes, deserted beaches and great views. With the weather looking promising for later in the day, we headed to Glen Clova and the Corrie Fee National Nature Reserve.
'Like a giant stone armchair, Corrie Fee is a wild amphitheatre of rocky landscape sculpted by the power of ice and water. The area is now a haven for the plants, birds and animals that are equipped to cope with the challenges of this harsh mountain environment.'
It was certainly chilly, but the skies cleared as we made our way up to the natural amphitheatre. There are lots of trails in this area and all were extremely well marked. It is an area I would like to return to in the Spring as it is meant to be wonderful for alpine flowers!
What a place! With the wind howling, helping to disperse the cloud, we were treated to wonderful panoramic views as we headed up toward the waterfall.
We had been told that this area was also really good for water voles! It was not the kind of landscape I would have expected to find them, although on closer examination, the clear water and vegetation would offer them a perfect habitat. It was not long before we started to find loads of evidence of, what looked like, a pretty healthy population.
Not only could we see all these sprains sites, but the tussocky grass was riddled with little runs and we could see holes all along the banks. We took some chopped apple, hoping to tempt them out, but sadly we were not lucky enough to spot them this time.
The walk up to the waterfall was stunning. We had considered making our way right up to the plateau, but the strong winds deterred us and we headed back down. The views were just amazing. I love this landscape!
Passing back through, we were delighted to spot a number of ring ouzel, feeding on the last of the hawthorn berries on the hillside. Neither of us had seen one before so a great sighting for both of us. This was only bettered by a golden eagle being mobbed by 2 buzzards. The size difference was incredible; the eagles are just huge! Superb to see them soaring in this majestic landscape, but too far away for a photo sadly.
Once out of the wind, the walk back through the woodlands was a little more pleasant and the recent rain meant there was a lot of water in the streams. I took the opportunity to try the motion blur option on my iPhone to take a picture. Using the live view option, you can take a short video and the phone merges the images together… clever eh?
Tim's basic mobile 'cafe' out of the back of the car meant a welcome cup of tea, before we headed back. This area is well worth a visit and I would love to return and explore some more of the paths in this region.
Another area we were keen to explore was that of Blairgowrie….. and for one reason in particular…. beaver!
Eurasian beavers are a true keystone species. These special creatures engineer whole habitats that benefit a range of other wildlife including otters, dragonflies and fish. They have a great impact on the landscape around them and play a vital role in diversifying woodlands and improving water quality. From 2009 to 2014 the Scottish Wildlife Trust played a major role in bringing beavers back to Scotland, and proving the environmental and social case for allowing them to stay through the Scottish Beaver Trial in Knapdale, Mid-Argyll. The Scottish Government's decision to let beavers remain in the wild and give them protected status is a major conservation success story. It represents the first formal reintroduction of a mammal to the wild in the UK. This piece, published in The Guardian, this summer, sums up the impact that these mammals could have on our landscape.
Scientists studied the work of a group of four re-introduced beavers over a decade and found their water engineering prowess created almost 200m of dams, 500m of canals and an acre of ponds. The result was a landscape "almost unrecognisable" from the original pasture that was drained over 200 years ago, with the number of plant species up by nearly 50% and richly varied habitats established across the 30 acre site.
Beavers were hunted to extinction in the UK in the 17th century, but a few hundred now live in Scotland, where they are now deemed a native species again. Interest is growing rapidly in controlled releases in the rest of the UK, where only a few dozen live, with a group in Devon being monitored closely and an